WHY SHREDDING IS IMPORTANT
Keep your confidential documents private. American Document Services will offer a secure and legal choice for your company to comply with the federal and local laws concerning the destruction of sensitive documents.
Whether your company is large or small, there will always be a need to destroy your company's confidential documents. Financial, payroll, tax returns, correspondence and lists containing your customer's vital information, just to name a few, should all be destroyed through shredding. Everyone has the right to privacy and the legal right to have this information protected. If you do not protect this information, it is very possible that your company can be brought up on criminal charges.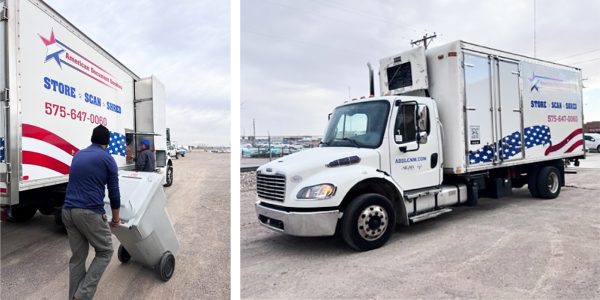 Private information isn't limited to bank statements and business contracts.
Printed confidential materials are produced daily in every business and by every employee —from employee medical records to strategic planning documents. As the fastest-growing form of fraud, identity theft and corporate espionage threatens to destroy personal credit ratings as well as business reputation and security.
Regulations and Compliance
Governments and regulators around the world continue to develop legislation to help protect individuals and businesses. But prevention is the best solution. American Document Services secure shredding services were developed specifically to deal with these regulatory privacy and confidentiality requirements in each area of business. Compliance with these privacy policies isn't just good business practice; it's now the law.
There are laws requiring the retention of documents and how long they need to be kept in order to comply. Setting up a schedule and sticking to it is very important. Documentation of the destruction process is important if your company becomes involved in a legal situation. The Certificate of Destruction will give you that documentation. Protecting your reputation and your information with a shredding service program that meets your current and changing business needs are the advantages of having American Document Services as your document destruction partner. American Document Services is NAID AAA Certified
It is the customer that ultimately benefits from a company becoming NAID AAA Certified. This certification gives you – the customer and American Document Services – the vendor, peace of mind that American Document Services is a certified, qualified, reputable data destruction vendor satisfying the legal requirement of effectively complying with today's Data Protection Laws and Regulations.

Document Shredding Solution
American Document Services can provide secure locked containers to hold your documents. We can set up a schedule that meets your needs and is perfect for your situation. Our mobile unit will make regular onsite pickups, shred your documents in a secure environment and provide documentation that the process has been completed.

Document Storage Solution
If you choose to store your documents in a storage facility, American Document Services offers a very secure environment. Securing your documents and the information they contain must be taken seriously. Your company will still be responsible if your company information ends up in the wrong hands. It is wise to have someone in upper management or security personnel witness the destruction of these important documents.

Collect your documents in a secure collection bin and we will do the rest. No need to sort documents and remove paper clips or staples.

By allowing American Document Services to shred your documents, your staff will be able to focus on other tasks and be more productive.

Our shredding process is secure. Keep your documents safe in our locked collection bins. Shredding can be completed right at your location while you watch.

American Document Services is NAID AAA Certified which means we comply with all information destruction laws.

Regain all that space in your office that is currently being taken up by filie boxes.Scheduled service or a one-time purge is a great solution to keep your office clean.

Preserve Natural Resources
Keep waste to a minimum and enjoy the advantages of being as green as possible. We recycle all shredded paper and cardboard.
When to Shred Your Documents?
Statutes of limitations for your State, as well as regulations of government agencies pertaining to your business must be considered. Because state retention statutes vary widely on tax, unemployment, and worker's compensation records, check with your regional tax authorities for details.
A final precautionary step is to have your CPA or attorney approve your records retention timetable in its final form. Also, there may be very good reasons to keep records longer than legally required, for historical reference purposes. American Document Services can set up a custom retention schedule based on your needs.