ONE-TIME SHREDDING FOR BUSINESSES
American Document Services Offer On-site & Offsite One-time Shredding
Our team of trained professionals is equipped with state-of-the-art
shredding technology to securely and efficiently destroy your confidential documents. We can either come to your office, warehouse, or any other location of your choice to destroy your files with one our powerful paper destruction trucks or collect your documents in our security bins and transport them to our secure facility and shred them there. Either option ensures that your sensitive information is never compromised and professionally handled and destroyed.
If you have business records to shred give American Document Services a call today. We can give you a quote right over the phone and set up your one-time service date right away.
Talk To A Document Destruction Expert Today
We understand that the security of your confidential business information is of utmost importance to you even when it is being disposed of, and
that's why we offer a reliable and convenient solution for your one-time shredding needs of business records. Let our experienced staff explain to
you how the shredding process works and answer all of your questions.
We Service Any Size File Purge
Whether you have a small business or a large corporation, you will
need to dispose of sensitive information such as financial records,
customer data, legal documents, or any other type of confidential
material. Simply throwing these documents in the trash can put your
business at risk for identity theft, fraud, or other malicious activities.
That's where our One-Time Business Shredding Services come in. We
can shred one box of records to thousands. We will shred them at any
business location or we can securely transport them to our document
center and destroy them there.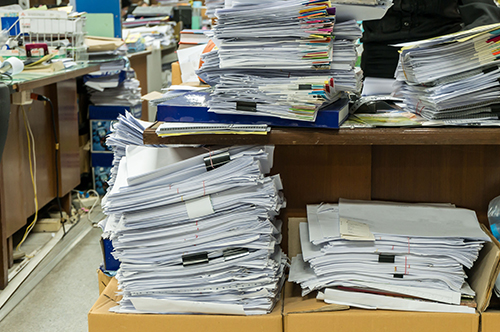 Shred Once Or As Often As You Need It
Our one-time shredding services are flexible and made-to-order to meet your specific needs. We can schedule a one-time shredding appointment
for you, or you can request our services as often as you need it. If it is time for your annual file purge, a document clean-out before a move or you
just want to eliminate cluttered piles of papers in your office our onetime shredding services are available.
Here's Why One-Time Shredding is Important
More than half of every document you use in business has some piece of confidential information that federal and state privacy laws require they
be shredded when they are being discarded. Not doing so will make your company subject to severe fines and penalties not to mention the loss of
confidence in your business by your clients and employees. Use our one-time shredding service to prevent this from happening to your firm.
American Document Services is NAID AAA Certified
It is the customer that ultimately benefits from a company becoming NAID Certified. This certification gives you – the customer and American Document Services – the vendor, peace of mind that ADS is a certified, qualified, reputable data destruction vendor satisfying the legal requirement of effectively complying with todays Data Protection Laws and Regulations.

We Care About The Environment
American Document Services recycles all shredded paper.
With our One-Time Business Shredding Services, you can have peace of mind knowing that your confidential information is being
handled and destroyed securely and responsibly. Don't put your business at risk by neglecting the proper disposal of sensitive
documents. Contact ADS today to learn more about our one-time shredding services and schedule your appointment.