American Document Services offers Community Shred Events to businesses in Las Cruces, El Paso and surrounding areas. Shred events are a great opportunity to have your documents shredded in a secure way.
American Document Services partners with many businesses to host shred events.  These events are a great opportunity to have your documents shredded securely and locally.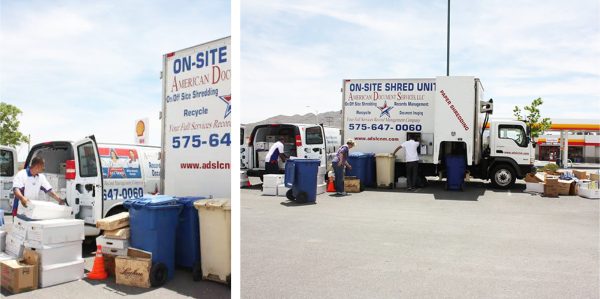 Benefits of hosting a shred event in your community. What to Expect. What can I bring to be shredded?
American Document Services has partnered with Banks, Credit Unions, Universities, and many other businesses to host a shred event for their community. This is a great way to engage your community, bringing people to your business – and lend credibility to your brand. We do the work. You get all the credit.
Give our experienced office team a call today! We will answer all of your questions and establish a date and time for your shred event. We have a state of the art onsite shred truck and will arrive at your location during the specified time with a uniformed shred technician. Our experienced team will be ready to help unload boxes from your customers vehicles, empty materials into empty shred containers and your customers will be able to watch as the documents and sensitive material are destroyed. Trust is a must with any professional relationship, and we appreciate the opportunity to help you provide this valuable service to your customers.
Any and all paper documents and files with confidential information such as bank statements, bills, medical information, checks, and pay stubs are all examples of things that need to be SECURELY destroyed and disposed of in a certified manner. You do not need to remove paper clips or staples as our machinery can handle it.
We recycle as much of the shredded material as possible and we are NAID AAA certified and HIPAA compliant. This gives our customers peace of mind that their documents are shredded and recycled in the most secure manner.
Every Friday we offer walk-in, drop-off shredding to individuals at our location from 9am until noon.
*Shredding is free on Friday to veterans, disabled, 60 years or older with donation of non-perishable items for humans or pets or monetary donation.
*Not to exceed 100 pounds per month* American Document Services is NAID AAA Certified
It is the customer that ultimately benefits from a company becoming NAID AAA Certified. This certification gives you – the customer and American Document Services – the vendor, peace of mind that American Document Services is a certified, qualified, reputable data destruction vendor satisfying the legal requirement of effectively complying with today's Data Protection Laws and Regulations.
Preparing for a shred event.
Not only is it a good practice to properly store and shred sensitive information, IT'S THE LAW!
Who should go through the records?
Anyone who puts information on paper. It's always a good idea to go through your records at least once a year and especially at the end of a fiscal year or calendar year. If you do not have a secure destruction container in your office, it would be a great idea to get one so that you can get rid of sensitive information on an ongoing basis. ADS has shred bins of all sizes to suit your individual needs!
Where are the records going to be stored?
Once you determine what records will need to be stored, you have to figure out where you are going to store them. Storing records onsite can be costly, not to mention take up a lot of room. ADS can save you money and time with our records management programs. Ask us how today!
What records should you be cleaning out?
This will vary for different industries based on the types of records you have – medical records, tax records, purchase orders, corporate records, personnel/HR files, accounts receivable/payable, contracts, etc.
When can the records be destroyed?
Each state has its own requirements for records retention. ADS can design a records retention program to fit your needs that is compliant with state laws and regulations.