HARD DRIVE AND MEDIA DESTRUCTION
American Document Services can pick up your electronic equipment from your location and transport to our location for destruction.
We will place your hard drive in a destruction system and the unit delivers catastrophic trauma to the hard drive chassis, destroying the internal platter, and all retrievable files and folders. That means physically shredding the hard drive and disposing of the minute particles that remain. Once hard drives are destroyed, the metal is recycled and you are issued a Certificate of Destruction.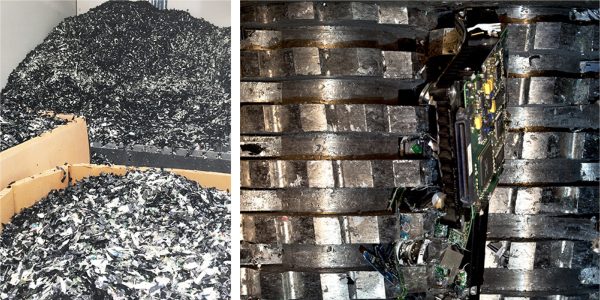 Confidential information in hard drives has also become a target for identity theft.
Now, more than ever, it is very important to protect your company's confidential information. When the time comes to purchase new computers and recycle your old ones, it is critical that you do not pass along information stored on the hard drive. Deleting the files just isn't good enough! Often when organizations upgrade their computers, they remove the hard drives, use software to erase the data and send them to computer recyclers. Even an inexperienced hacker, once they obtain the hard drive, can retrieve and restore the company's confidential information. Hard drive and media destruction is the 100% secure way to permanently destroy data.
How We Destroy Hard Drives
Our destruction system has a steady crushing motion that focuses 10,000 lbs of force that literally destroys the internal hard disk by punching through the chassis, guaranteeing the internal hard drive will never spin again. The platter is so damaged that it will not fit into a new chassis and the information cannot ever be retrieved again. Once hard drives are destroyed, the metal is recycled, and you are issued a Certificate of Destruction listing each hard drive by serial number.
Here is what American Document Services accepts for hard drive and media destruction service:
Hard Drive (any kind laptop, desktop, PATA, SATA and many more)
Backup Magnetic Tapes (any kind DLT, mini cartridges and many more)
Floppy Disk (3.5 inch disk, 5.25 inch disks, and many more)
Zip Disk (100 MB, 250 MB, and other large disks)
Optical Media (CD's DVD's, Blue Ray, and HD DVD)
Circuits Board (computer, copier, laptop, etc.)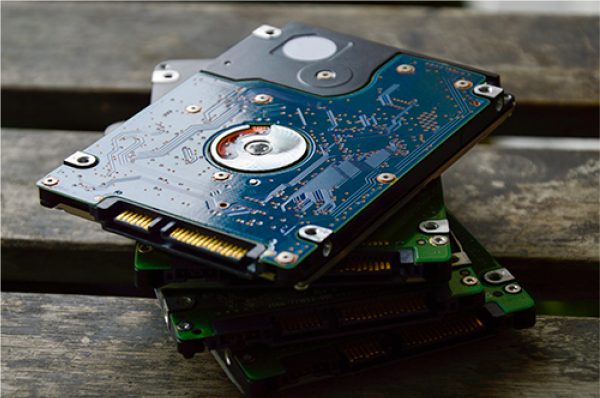 We will pick-up your hard drives in a locked bin and place them in our GPS tracked vehicle for transport to our shredding facility. All hard drives will be shredded by our destruction system ensuring the information cannot ever be retrieved again. A certificate of destruction is issued after hard drive and media shredding has been completed.
Call American Document Services Today
The goal of hard drive destruction is to ensure that no data can be recovered from the destroyed hard drive. ADS will make sure that happens
when you entrust the destruction of your hard drives to us.
American Document Services is NAID AAA Certified
It is the customer that ultimately benefits from a company becoming NAID AAA Certified. This certification gives you – the customer and American Document Services – the vendor, peace of mind that American Document Services is a certified, qualified, reputable data destruction vendor satisfying the legal requirement of effectively complying with today's Data Protection Laws and Regulations.

We Care About The Environment
American Document Services recycles all shredded paper.
No matter what type of business you have we can assist any of your needs!