At American Document Services we specialize in high speed and large format scanning/imaging. We offer commercial grade scanners that scan up to 5000 sheets per hour.
We utilize feature rich, industrial grade scanning equipment that ensures we capture all data regardless of its location on a document. Our scanning process includes both simplex and duplex materials, prepping, removal of staples, paperclips and sticky notes. American Document Services will provide a physical copy of your data to you in the form of an encrypted USB drive. We utilize BitLocker to encrypt the drives before uploading any data to the drive.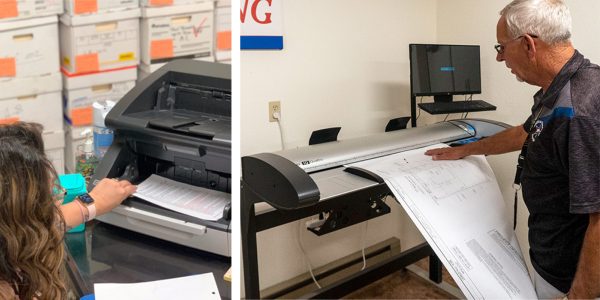 We Offer Large Format Scanning
Commercial Business Scanning Solutions
No matter what type of business you have we can assist any of your needs!
Our project workflow depends on the needs of our clients.
We will meet with you to determine your product needs and provide you with a fair estimate.

Pickup

Logging in of documents

Clean up & preparation

Scanning

Indexing

Quality check

Back up to disk

Delivery of project

Secure destruction